Outstanding Antique Baccarat Crystal Pump Atomizer with a DRAGON Mounting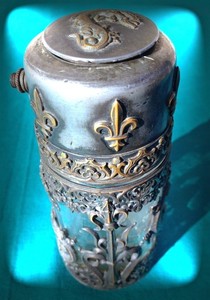 ---
For your perusal

This is an incredible Find! For your pleasure, here is our prized antique collectible. A Baccarat Piston Pump Perfume Atomizer Bottle - Encased in an Exceptional Theophilus Martin Mount - The Dragon is a Masterpiece... It is the rarest of all our Piston Pump Atomizers... and superlatives cannot even begin to describe this antique. The eloquent pictures are part of its description.

THE HARDWARE - THEOPHILUS MARTIN --- AGE = 1904 --- STATUS = Antique --- ERA = Art Nouveau / Victorian ---

MAKER = Theophilus Martin --- AUTHENTICITY = Original --- MARKINGS = "TM". The pump has the Theophilus Martin "TM" tamped in two places. ---

COMPOSITION - HARDWARE = Silver Plated Metal --- DESIGN / PATTERN = Stylized Crowned Dragon --- TREATMENT = Filigree casing ---

COLOUR = Dark Grey Silvery Colour --- COUNTRY OF ORIGIN = France

THEOPHILUS-MARTIN: Theophilus Martin was a silversmith from France operating around 1904 and possibly up until around 1920. He designed and manufactured high quality silverplated and gilded base metal mountings used on pump atomizers. His mark is "TM" with an image of a piston pump style atomizer. One can find Martin mounts on luxurious art glass bottles by Galle, Daum Nancy and possibly Baccarat and Saint-Louis. His chased designs on the mountings contribute much of the aesthetic appeal of these already valuable crystal treasures. Possibly the founder of the jewelry company T. Martin & Co, who worked out of France and London around 1900-1930, most famous for their watches. Theophilus Martin mounts were generally found on either - Baccarat, Lalique, Daum Nancy, Galle or Saint Louis as these were the Crystals he used for his Atomizers.

THE BOTTLE - BACCARAT FRANCE --- AGE = 1900s --- STATUS = Antique --- ERA = Art Nouveau / Victorian ---

COMPOSITION - BOTTLE = Art Glass / Crystal --- TREATMENT = Pressed Glass - Cut Crystal --- COLOUR = Clear ---

DESIGN = Starburst under the bottle - a detail generally found on Baccarat Bottles --- COUNTRY OF ORIGIN = France

MARKINGS = None, Baccarat crystal were not marked prior to 1936.

BACCARAT: In response to a wealthy landowners request to make the best use of the natural resources of the infertile Baccarat region of France, King Louis XV created "Compagnie des Cristalleries de Baccarat" in 1765 by royal decree. The renowned company was the first French glassworks firm established to directly compete with imported Bohemian counterparts. The tremendous popularity of Baccarat glassware was evident in the numerous top awards and honors the firm has had been given in the last two centuries. Baccarat has long been internationally recognized for their magnificent creations. Most notably, at the 1823 Exposition Nationale in Paris, where they received international praise and acclaim from all in attendance. Even Louis XVIII, admired and appreciated the quality of craftsmanship and modest prices of the wares. The popularity of Baccarat flourished and became vogue among European royalty and elite. During the mid-19th century Baccarat chandeliers and tableware were favored by European royalty, with the Russian aristocracy proving to be some of their most loyal clientele.

SIZE = 4 1/2" tall and 1 7/8" wide at the base

CONDITION = Excellent. Chain and cap missing from the spray tip. Minor age / handling-related wear. An exceptional rarity...

ENJOY!!!

FYI, There is another perfume bottle that was inspired by the same theme. Made by Unger Brothers, a Newark, New Jersey company (1872-1914), this bottle's beautiful massive sterling silver mount is a dragon of Art Nouveau style.

ENJOY!