Ford Falcon Wagon 2008 LPG tank, Good tow Car 4 Caravan , Commuters, Backpackers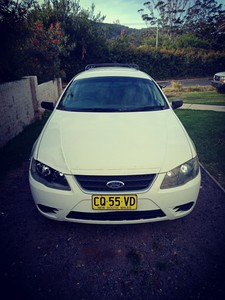 ---
Ford Falcon BF with LPG
This would make an ideal tow car for a Boat, Caravan or Car Trailer
The rear of the Wagon has been upgraded to a 1 Tonne Ute specifications, leaf springs , the back doesn't droop down when you add a load to it. Nolathane brand new bushes throughout so it drives well, very solid on the road.
So basicly you have the capacity of a 1 tonne ute in a Wagon.
The front end has been upgraded with brand new control arms.
Car drives likes new , actually better than new with the upgraded system.
With the price of fuel just going up, this would make a good tow car as it has the power of a 6 cylinder with the economy of Gas. 
Roof racks and tow bar, good tow car, surf car or back packers.
You can sleep in it.
Rego till august next year
Steven 0434024317