Barbie Wedding Gift Set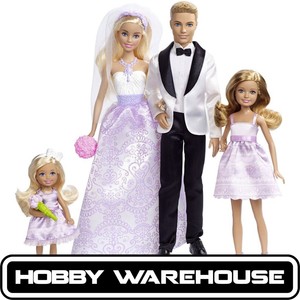 ---
     STORE     |    VEHICLES    |    HELICOPTERS    |     PLANES     |    WATERCRAFT    |     PARTS     |    BATTERIES    |    ACCESSORIES
Images Copyright © HobbyWH Barbie Wedding Gift Set Give Barbie doll the wedding of her dreams and send her off into happily ever after with this Barbie wedding gift set that features a full bridal party! Four beautiful dolls include a bride, groom and two bridesmaids, plus wedding-themed pieces for complete wedding day play. Barbie doll is ready to walk down the aisle wearing a glamorous bridal gown -- a strapless bodice and lavender floral-print skirt are right on trend. A removable headband with veil, sculpted necklace and matching shoes complete the exquisite ensemble. Ken doll is ready to wait by the altar wearing a classic black and white tuxedo with a black bowtie and matching shoes. Bridesmaids Stacie and Chelsea dolls will help their sister celebrate the special day in lovely lavender looks that complete the wedding theme. Walk down the aisle and into imagination carrying flower bouquets, and enjoy traditional fun with the included wedding cake. Say "I do" to a complete gift set for wedding play. Includes Barbie bride doll, Ken groom doll, Stacie bridesmaid doll and Chelsea bridesmaid doll wearing fashions and accessories, plus three bouquets and one wedding cake. Barbie, Ken and Stacie dolls cannot stand alone. Colors and decorations may vary. Recreate memorable wedding moments with a complete wedding gift set that includes a bride, groom and two bridesmaids dolls, plus three bouquets for the girls and a wedding cake. Barbie makes a magnificent modern bride in a classic silhouette infused with lavender, a removable headband with veil, sculpted necklace, matching shoes and wedding bouquet. Ken doll is ready to wait by the altar wearing a classic black and white tuxedo with a black bowtie and matching shoes. Bridesmaids Stacie and Chelsea dolls are totally adorable with lavender dresses, matching shoes and bouquets of their own. A wedding cake expands the realistic play and storytelling possibilities.
About HobbyWH Bonus Free Newsletter All purchasers from HobbyWH are elegible for the bonus fortnightly newsletter free of charge. Our newsletter contains articles, reviews and other information and you are able to one-click unsubscribe or resubscribe at any time. Shipping and Delivery Please provide a physical address where someone is present to sign and accept your item. We are unable to ship non-parts items to PO BOXES due to the couriers that we use, providing a PO BOX may currently lead to a delay in your shipment whilst we contact you for an alternative address. Parts that are small enough to be posted can be sent to a PO BOX, please message us if you are unsure. Our couriers are presently unable to ship to the following locations: Christmas Island, Cocos Islands, other outlying Island regions. Payment Information Payments must strictly be completed within 3 days. Please use your userid, postcode or telephone number as the reference when making a direct deposit payment. Using the item number may mean we cannot match your payment and will delay processing and shipping. Warranty and Support If a shipment arrives damaged, please contact us immediately with a photo of the damaged item and parcel. We guarantee our product for 30 days against manufacturer defects, if the product is defective we will be able to exchange or repair. Warranty does not cover after-play damages, crashes and improper installation. For airborne hobby items please ensure you test the item at ground level as standard practice in a safe clear area away from children, pets or items that can be damaged. Customer pays for the return of goods, returned goods must be in original packaging.