4 x 24 bags ECO TEAS Yerba Mate Unsmoked Tea Bags - Green Energy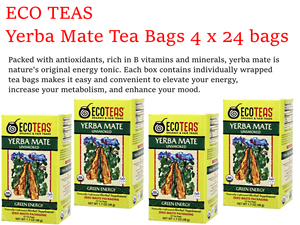 ---
ECO TEAS Herbal Tea Bags
Yerba Mate 4 x 24 bags ( total: 96 tea bags )
Packed with antioxidants, rich in B vitamins and minerals, yerba mate is nature's original energy tonic. Each box contains 24 individually wrapped tea bags makes it easy and convenient to elevate your energy, increase your metabolism, and enhance your mood.
Discover why EcoTeas Unsmoked Yerba Mate is becoming the favorite choice of mate fans from coast to coast. We source our organic yerba mate from a small family farm in northeastern Argentina. Our farmers have developed a unique smoke-free drying process to achieve a smooth, clean flavor. They employ sustainable farming techniques to ensure a biologically-rich, economically-productive future for their family and their community.
Ingredients
Propietary blend, organic yerba mate.