2005 Subaru Forester. .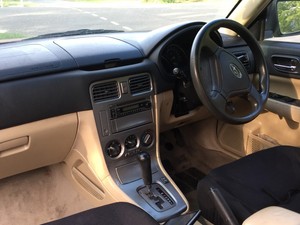 ---
You tube clip on the car: http://youtu.be/H3UfhAXxPXw 
CAR SOLD AS IS WHEREAS WITHOUT REGO or PLATES 
• It's a 2.5 liter. non-turbo petrol engine.
• automatic transmission
• the interior is good and clean
• engine: light on and off
• abs light on- 
• OBD2 codes_ says oxygen sensor number 2 needs changing
• Transmission- not aware of any problem
• A/C repaired it last weekend. working well. 
• Towbar
• Mechanics up here were not able to diagnose the ABS issue. (Changed -module, sensors- new brake fluid-could be the eath wire-who knows. hard to tell but money wasted.)
• if you are a car savvy person, the issues that may arise are easy to fix
INSPECTION WELCOME:
SELLING AS IS WITH ALL FAULTS. CAR DRIVES.
SOLD without Rego/or pay the rego difference to keep rego.