1958 BMW iSetta 300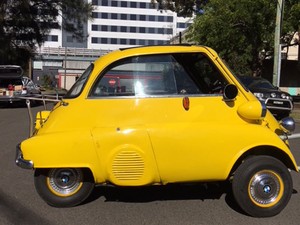 ---
1958 BMW iSetta 300
The Isetta was a true peoples car manufactured by various firms worldwide under license from the original creator Italy's Iso. The most famous was of course BMW, which took the original Isetta design, developed it with their typical efficiency and skill, and gave it the blessing of their large- scale marketing efforts. BMW made the Isetta "cheap chic" which was popular among the fashion set as it was among those seeking economy.
This car is destined to become one of the best loved micro cars of all time. All Isetta's had a sunroof to enable occupants to escape should someone park to close to the front opening door. A variety of specifications were available for different countries requirements.The US export version had 7″ headlamps and nerf bars, while the tropical version and door grills and the 3 wheelers wer built for England and Austria.
Although the Isetta spawned an entire wave of European bubble cars in the 1950″s, the BMW's only true competitor became the Fiat 500 Nuova.
This European spec Sliding window model is a very rare RHD version and a rare opportunity for any collector
We are located only 10 minutes from Sydney Airport in an indoor one-stop-car-shop. Our main aim is to form an ongoing relationship with you for many years. 
Contact us for a very personal experience and as always a great deal on price.
This vehicle may be advertised elsewhere, therefore we may cancel this listing at anytime.
Please confirm vehicle details with the seller prior to purchase.
Member of the Motor Trader Association 
We can organise car transport anywhere in Australia at a competitive rate.
Dealer Licence No. 25693
Say you saw it on !