100Pcs Car Body Plastic Push Pin Rivet Fasteners Trim Moulding Clip Screwdriver 888566374175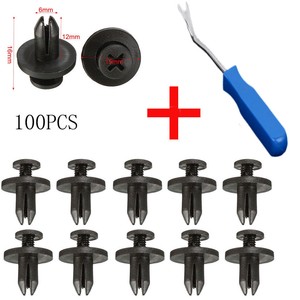 ---
Plastic Push
Description:
◎ Colour: Black
◎ Quantity: 100
◎ Material: Plastic
◎ Head Diameter (max.): 15mm
◎ Fit Hole: 6mm
◎ Stem Length: 12mm
◎ Total Length: 16mm
◎ Rivet post pressure extends legs for quick and permanent attachment.
◎ Widely used for car For Fender, bumper, door or other car surface.
◎ These rivets are made of plastic, fit 6mm diameter hole.
Note:
You make sure that you have corresponding frequency controller before you buy.
Screwdriver Tool
Description:
◎ 100% brand new and high quality
◎ Help remove door panel clips, upholstery, and trim without causing damage.
◎ Used to remove rubber fasteners from the door panels quickly, suitable for most kinds of cars.
◎ High quality steel material screw driver can be stable and durable, comfortable handle design
meet the demand of human engineering.
Feature:
◎ Item Type: Fastener Screw Driver
◎ Material: Steel, Plastic
◎ Suitable Occasion: Household, Garage
◎ Colour:Blue+White
Package Included:
1x Remover Tool 
100Pcs / set Plastic Rivets